Best Lunch Spot in Las Vegas: Discover the Food Hall at Aria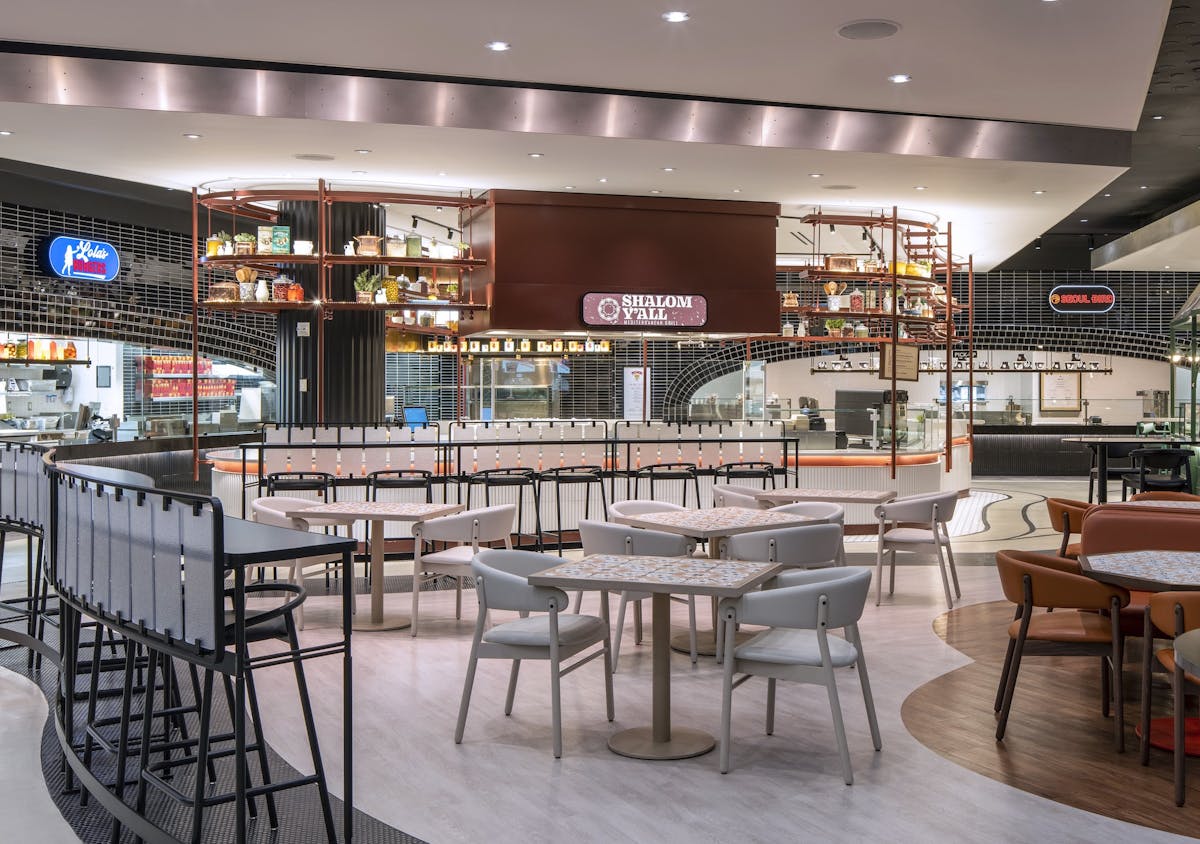 Are you in search of the perfect lunch spot in Las Vegas? Look no further than the remarkable food hall at Aria Resort & Casino. Nestled in the heart of Las Vegas, this culinary gem offers an unparalleled dining experience that will delight your taste buds and leave you craving for more. Whether you're a local or a visitor, the restaurants in Aria are a must-visit destination for food enthusiasts. Let's explore why it has gained a reputation as the best lunch spot in Las Vegas.
Exploring the Concept of Food Halls
Food halls have become increasingly popular in recent years, and for a good reason. They offer a unique and vibrant dining experience, bringing together a variety of culinary delights under one roof. Aria's Restaurants have taken this concept to new heights, curating an exceptional selection of restaurants that showcase diverse flavors from around the world. From casual eateries to upscale dining options, the food hall at Aria has something for everyone.
Aria Restaurants: An Epicurean Paradise
Aria's restaurants are renowned for its commitment to culinary excellence. As you step inside Aria Resort & Casino, you'll be greeted by an inviting ambiance that sets the stage for an unforgettable dining experience. The resort's sleek design and modern aesthetic create a warm and welcoming atmosphere that invites you to indulge in a culinary journey like no other.
Unparalleled Dining Options in Aria
The Ultimate Food Hall Experience
Proper Eats Food Hall, a restaurant in Aria offers a true feast for the senses. With a wide array of food stalls to choose from, you can embark on a culinary adventure that spans the globe. From sizzling shawarma to mouthwatering sushi, there's something to satisfy every palate.
A Culinary Journey at Aria
At all Aria restaurants, dining is not just about eating; it's an immersive experience. Each restaurant within the food hall is led by talented chefs who are passionate about their craft. They infuse their creations with creativity and expertise, taking your taste buds on a delightful journey.
Variety of Cuisines to Suit Every Palate
No matter what type of cuisine you're craving, the food hall at Aria has you covered. From Mediterranean delicacies to Asian fusion, Italian classics to American comfort food, the options are endless. You can explore the vibrant flavors of the world without ever leaving the premises. It's a paradise for food lovers seeking culinary diversity.
Local and International Flavors Collide
One of the things that make the food hall at Aria Resort & Casino truly special is the collision of local and international flavors. You can savor the best of Las Vegas cuisine alongside dishes inspired by far-flung destinations. It's a melting pot of tastes that reflects the cosmopolitan nature of the city itself.
Unveiling the Best Lunch Spot in Las Vegas
The Vibrant Atmosphere of the Food Hall
When it comes to finding the best lunch spot in Las Vegas, ambiance plays a crucial role. The food court at Aria delivers in this regard. The lively and energetic atmosphere creates a captivating backdrop for your midday meal. Whether you're meeting friends, enjoying a solo lunch, or having a business meeting, the food hall provides the perfect setting.
Fresh and High-Quality Ingredients
Quality is at the forefront of every restaurant in Aria Resort & Casino. The ingredients used by the restaurants within the food hall are sourced meticulously, ensuring freshness and superior taste. From farm-to-table produce to sustainably caught seafood, you can trust that your lunch will be crafted from the finest ingredients available.
Chef-Driven Menus for Unforgettable Meals
At all Aria restaurants, the culinary expertise of the chefs shines through in every dish. The menus are thoughtfully curated, showcasing the unique talents and visions of each chef. You'll be treated to innovative flavor combinations, stunning presentations, and a level of culinary mastery that will elevate your lunch to new heights.
Customizable Meals to Satisfy Every Craving
Variety is key when it comes to choosing a lunch spot, and the food hall inside Las Vegas's City Center excels in providing options. Whether you're in the mood for a hearty burger, a refreshing salad, or a flavorful bowl of ramen, you'll find it all within the food hall. And the best part? Many restaurants offer customizable meals, allowing you to tailor your lunch to your specific preferences and dietary needs.
Standout Restaurants in Aria for Lunch
Temaki Bar: Elevating Casual Dining
Temaki Bar offers an elevated casual dining experience for lunch that combines the best of both worlds. With its laid-back and inviting atmosphere, you can enjoy a leisurely lunch while indulging in beautifully handcrafted temaki rolls. The combination of fresh ingredients, innovative flavor combinations, and skilled craftsmanship makes Temaki Bar the perfect spot to satisfy your sushi cravings in a relaxed and elevated setting.
Seoul Bird: Fusion Delights
Seoul Bird takes Korean fried chicken to new heights by offering a delightful fusion of flavors that will tantalize your taste buds. With their crispy and perfectly seasoned chicken, paired with unique sauces and creative toppings, Seoul Bird creates a harmonious blend of Korean cuisine and global culinary influences. Whether you're a fan of spicy, sweet, or savory, Seoul Bird's menu is sure to satisfy your cravings for delicious and innovative Korean fried chicken dishes.
Shalom Y'all: Healthy and Wholesome Fare
Shalom Y'all embraces the Mediterranean culinary tradition by offering a menu of healthy and wholesome dishes that will transport your taste buds to the sun-kissed shores of the Mediterranean. With fresh ingredients, vibrant flavors, and a focus on nourishing options, Shalom Y'all brings a balance of taste and nutrition to your plate. From colorful salads to flavorful grilled meats and refreshing dips, every bite at Shalom Y'all is a celebration of the Mediterranean's rich culinary heritage and commitment to wholesome eating.
Pizzaoki: Efficient Sustenance
When you're in a rush for lunch but still want a satisfying meal, Pizzaoki comes to the rescue with their quick and delicious pizzas. With a variety of toppings, flavorful sauces, and perfectly baked crusts, Pizzaoki offers a convenient and tasty option to curb your hunger on the go. Whether you're grabbing a slice or ordering a whole pie, Pizzaoki ensures that you never have to compromise on flavor or quality, even when you're short on time.
The Importance of a Great Lunch Spot in Las Vegas
Having a go-to lunch spot in Las Vegas is more than just satisfying hunger; it's about creating moments of enjoyment and relaxation that break up the day and recharge your spirit. A great lunch spot offers a brief escape from the hustle and bustle of the city, allowing you to savor delicious food, connect with friends or colleagues, and take a well-deserved break.
Proper Eats Food Hall goes beyond being a mere lunch spot. It's an experience that caters to your senses and cravings. Whether you're seeking a quick bite or a leisurely meal, you'll find yourself immersed in a world of flavors and culinary artistry.
In conclusion, if you're searching for the best lunch spot in Las Vegas, look no further than the food hall at Aria. With its vibrant atmosphere, fresh ingredients, chef-driven menus, and a variety of standout restaurants, it's a haven for food enthusiasts. Indulge in the diverse cuisines, immerse yourself in the vibrant ambiance, and make lunchtime a memorable part of your Las Vegas experience.
FAQs - Best Lunch Spot in Las Vegas
Q: What are the operating hours of the food hall at Aria Resort & Casino?
A: Proper Eats Food Hall is open from 7:00 AM to 11:00 PM, providing ample time for lunch and beyond.
---
Q: Can I make reservations at the food hall?
A: The food hall operates on a first-come, first-served basis.
---
Q: Are there vegetarian and vegan options available?
A: Absolutely! Many of the restaurants within the food hall offer vegetarian and vegan dishes, catering to a range of dietary preferences.
---
Q: Can I find gluten-free options?
A: Yes, several restaurants in the food hall provide gluten-free options to accommodate those with dietary restrictions or preferences.
---
Q: Is parking available at Aria Restaurant?
A: Yes, Aria offers convenient parking facilities for guests. You can find both self-parking and valet options within easy reach of the food hall.