Unveiling the Ultimate Oyster Extravaganza: Dive into Las Vegas' Best Oyster Deal at Proper Eats!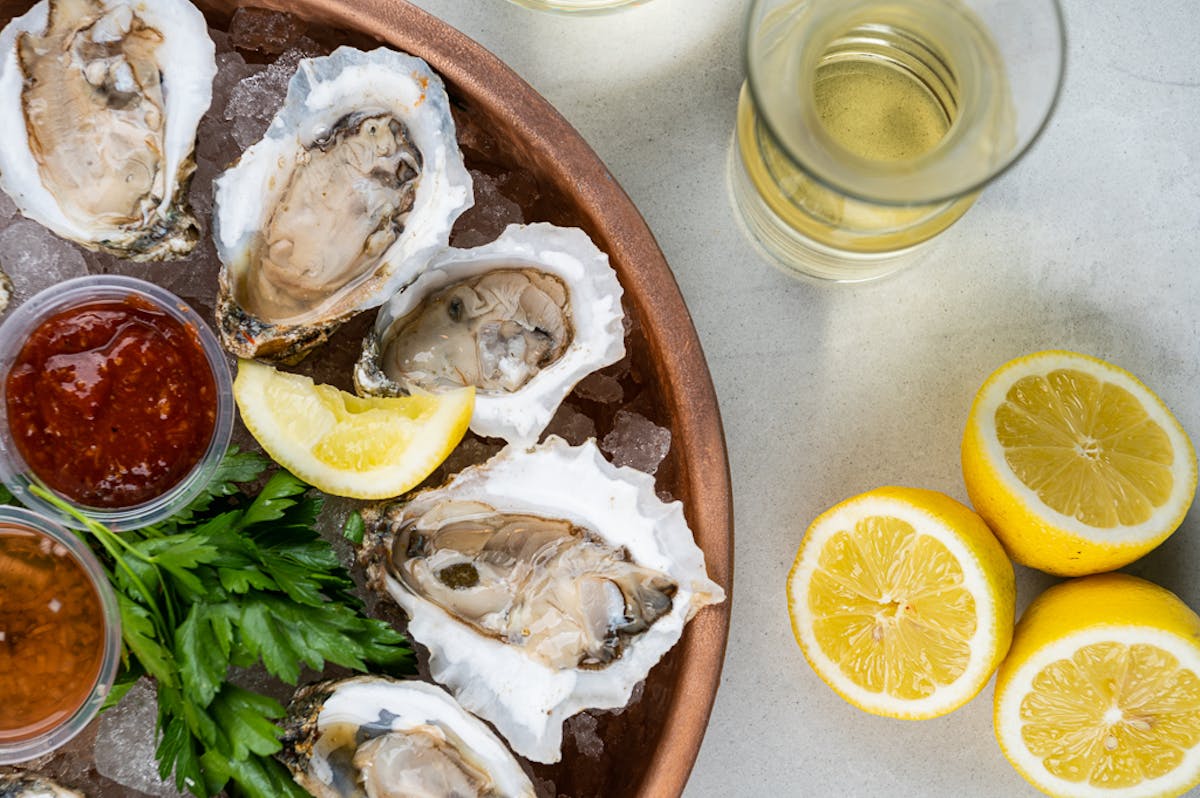 Discover the Delight of Oyster Bliss at Proper Eats Food Hall
Are you a seafood lover searching for the perfect oyster haven in Las Vegas? Look no further than Proper Eats Food Hall, nestled within the iconic Aria Resort and Casino. Starting Monday, June 5th, 2023, we invite you to indulge in our unparalleled $2.00 Oyster Happy Hour at Proper Bar. Brace yourself for a sensational experience as we serve up freshly shucked Blue Point oysters, tantalizing your taste buds with their exquisite flavors.
Unveiling the Crème de la Crème: Blue Point Oysters
At Proper Eats, we take pride in sourcing only the finest ingredients, and our Blue Point oysters are no exception. Renowned for their plump, succulent meat and distinct briny flavor, these delicacies hail from the pristine waters of the Eastern seaboard. Expertly shucked to perfection by our talented team, each oyster promises an unforgettable culinary adventure.
The Ultimate Oyster Deal: $2.00 Each
Calling all oyster enthusiasts! Proper Eats' Oyster Happy Hour presents an unbeatable deal you won't find anywhere else in Las Vegas. Indulge in the freshest Blue Point oysters for an incredibly affordable $2.00 per oyster. It's an extraordinary opportunity to savor these delectable bivalves without breaking the bank.

Proper Bar: Where Oyster Dreams Come True
Immerse yourself in the inviting ambiance of Proper Bar, the heart of Proper Eats Food Hall. Our skilled bartenders are ready to pair your oyster experience with a carefully curated selection of refreshing beverages, from fresh oyster shooters, to classic cocktails, or local craft beers. Indulge in the perfect libation that complements the flavors of the sea, elevating your oyster journey to new heights.
Unleashing the Oyster Enthusiast Within: Happy Hour Delights
Beyond the incredible oyster deals, Proper Eats' Oyster Happy Hour offers much more to delight your senses. Whether you're looking for a midday treat or an early evening escapade, join us from 4:00pm to 6:00pm and discover a treasure trove of culinary wonders. Indulge in our vibrant atmosphere, relish in the joy of sharing a platter of oysters with friends, and immerse yourself in the buzz of Las Vegas' food scene.
Don't Miss Out on Las Vegas' Premier Oyster Experience!
Mark your calendars and secure your spot at Proper Eats Food Hall, located within the esteemed Aria Resort and Casino. Be among the fortunate few to enjoy the finest oyster deal in Las Vegas, starting on Monday, June 5th, 2023. Unleash your inner oyster enthusiast and let Proper Eats' Oyster Happy Hour transport you to seafood paradise. Come prepared to savor the ocean's finest treasures, one succulent oyster at a time.
Unlock the Best Oyster Deal in Las Vegas Today
Embark on an unforgettable culinary adventure and experience Las Vegas' most sensational oyster deal. Join us at Proper Eats Food Hall, Proper Bar, and immerse yourself in the flavors of the sea. Discover why our $2.00 Oyster Happy Hour has become the talk of the town. Don't miss out—come and enjoy a truly remarkable dining experience that will leave you craving more.
Remember, Proper Eats' Oyster Happy Hour starts on Monday, June 5th, 2023, so head over to Aria Resort & Casino now and get ready to indulge in the finest oyster deal Las Vegas has to offer. Hurry, because seats are filling up fast!