Proper Eats Food Hall: A Unique Dining Experience | Aria Restaurant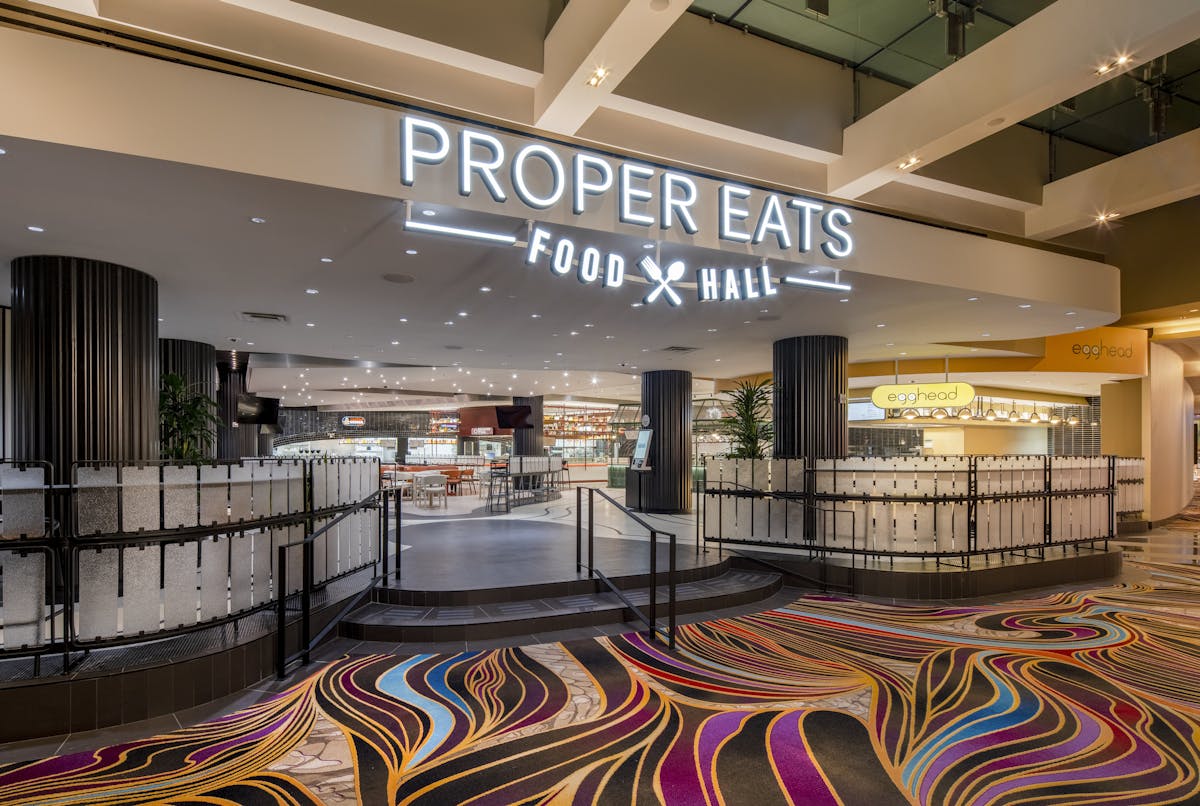 Discover Something Different at Proper Eats Food Hall in Las Vegas
If you're tired of the same old dining options in Las Vegas, it's time to explore Proper Eats Food Hall, the newest addition to the Las Vegas food scene. Proper Eats is not just a food court, it's a culinary adventure that will take you on a journey through different cultures and flavors. Located in the heart of Aria Resort & Casino, Proper Eats offers a unique dining experience that's perfect for foodies.
A Variety of Options for Every Taste
At Proper Eats, you'll find a wide selection of food vendors, each specializing in a different cuisine. From the fresh and zesty Mediterranean delights of Shalom Y'all to the delectable Korean Fried Chicken at Seoul Bird, there's something for every palate. You can indulge in some scrumptious sushi from Temaki Sushi Bar or treat yourself to a massive 22-inch pizza from Pizzaoki. With over 10 vendors to choose from, you can always find something new to try.
Delicious Options for Every Appetite
Whether you're looking for a light lunch or a hearty dinner, Proper Eats has you covered. The locally-sourced egg sandwich from EggHead is a must-try, and the savory ramen from Laughing Buddha is sure to warm you up on a chilly day. The Korean Fried Chicken from Seoul Bird is also a popular favorite, and the pizza from Pizzaoki is perfect for sharing with friends. And if you're in the mood for something sweet, make sure to check out Easy Donuts for some delicious boba tea or shaved snow.
An Inviting Atmosphere
The atmosphere at Proper Eats is just as impressive as the food. The bright and airy promenade level of Aria Resort & Casino sets the stage for an inviting dining experience. The open seating area is filled with natural light and greenery, making it the perfect place to enjoy a meal with friends or grab a quick bite while working. With free Wi-Fi, plenty of seating options, and a friendly ambiance, Proper Eats is the ultimate spot to relax and unwind.
Convenient Location with Nearby Attractions
Another benefit of Proper Eats is its location. It's just steps away from the Aria Convention Center, making it a convenient option for business travelers. And after you've had your fill of delicious food, you can explore nearby attractions like the high-end shops at Crystals Shopping Center or the immersive Van Gogh Experience. The nearby Aria casino and entertainment complex offer endless entertainment options, from gaming to live shows, making it the perfect place to spend a day or evening.
A Unique and Memorable Dining Experience
Proper Eats is not just another food court. It's a place where you can discover new flavors, meet new people, and create lasting memories. The commitment to sustainability at Proper Eats is also commendable, with a focus on reducing waste and using environmentally-friendly products. They use reusable plates and utensils, and offer compostable to-go containers to minimize waste.
Final Thoughts
If you're looking for a unique and unforgettable dining experience in Las Vegas, Proper Eats Food Hall is the perfect choice. With its wide selection of vendors, inviting atmosphere, and commitment to sustainability, it's the ideal spot to grab a quick bite or spend an afternoon with friends. And with nearby attractions like the Aria Convention Center and Crystals Shopping Center, it's easy to make a day of it. So next time you're in Las Vegas, make sure to check out Proper Eats Food Hall for a taste of something different.